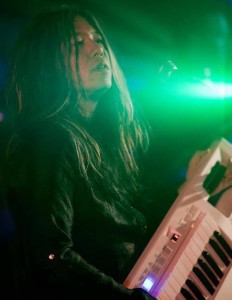 Dan Reed here… I am writing to let everyone know that Mr. Blake Sakamoto, for the benefit of his family and philanthropic work in Portland, Oregon, has made the decision that he will no longer be able to shoulder the responsibilities of recording in the studio or being on the road with DRN in the future.
From Blake – "I have had some recent family matters that need my immediate attention. Additionally I have existing family needs that are continual. These past few years have narrowed my focus considerably.".
We respect and honour his decision at this important time, and wish him only good energies and good fortune with all he is balancing with his home life and his work. Blake has been an invaluable and most active ambassador for the band in his tenure, and always gave 100 percent on stage and to the public. We wish him well on his continuing creative journey in the months and years to come!
Regarding the upcoming tour… we are fortunate and honoured to have Mr. Rob Daiker, whom many of you have met and seen perform with me on my solo band tours as our guitarist, filling in for Blake on the upcoming European Tour and US shows. Rob is also co-producing the new DRN album which we will be recording in Portland immediately after the tour. Rob is equally talented on the keyboards and we welcome him on the road. Onward and upward, and see you all out there on the road!
Blake:
Helloooo!!
It is with sadness that I am leaving the Dan Reed Network effective immediately. It is with excitement that the Dan Reed Network will still be making new music and performing! It is with hope that all of you will be continuing this journey with the Dan Reed Network!
I have had the time of my life meeting and performing for you over the past 28 years! I am always astounded by how many of you have so many memories of the band to this day. It's been wonderful to create new ones over the past few years!
Life has it's challenges and mine is no different as it is in the best interest of my dearest to be close to them. I won't be a stranger as many of your have been chatting with me during the 20 year absence of the band. I expect to keep getting random IMs, texts and emails! It is through this communication that I have gotten to know all of you even better as our world has gotten smaller!
I'm going to continue to be among you as our lives move on … as a fan of the Dan Reed Network! It has been an honor gentlemen!
Thank you for everything you have taught me as good people of the world.
Blake Sakamoto